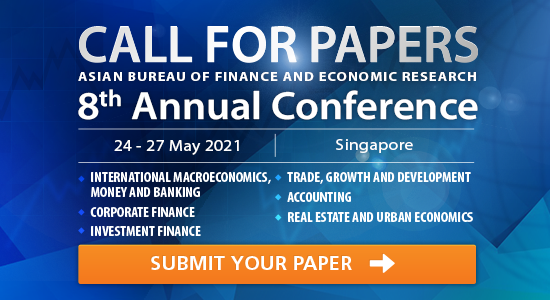 Please submit your papers and indicate your interest to present, discuss or attend the sessions. Three papers will be presented for each session with assigned discussants and time for open discussion. The conference will be summarized in the ABFER Research Digest. 
Electronic Submission
Submission closed
Timeline
| | |
| --- | --- |
| Paper Submission Closing Date | 15 January 2021 |
| Paper Selection by | 15 February 2021 |
| Discussant Selection by | 1 March 2021 |
| Schedule Completion by | 15 March 2021 |
Things to Note
We encourage submissions from early-career scholars and researchers, and those who are not affiliated with ABFER.
Please feel free to submit work which will be considered for review/publication elsewhere.
There will be no conference volume.
Presented papers will be available on ABFER website and electronically distributed to participants and our Senior Fellows and Fellows.

Previous conference programs and presented papers will remain accessible on our website.

ABFER will reimburse air flight (with cap) and provide accommodation in the official conference hotel for overseas delegates (i.e. one author per paper, discussants and panellists).
Only those who are selected as presenters, discussants, or panellists will be notified.
In view of the pandemic, the conference will be held in hybrid mode. Authors/presenters may opt to present virtually (via zoom) if making a trip to Singapore is not possible.
Papers which were submitted and not published last year, please submit online again.